Our annual plan and budget sets out our key aims, activities and expected costs for the year 2022/23. We publish this to provide a clear overview of what we are doing, why and how.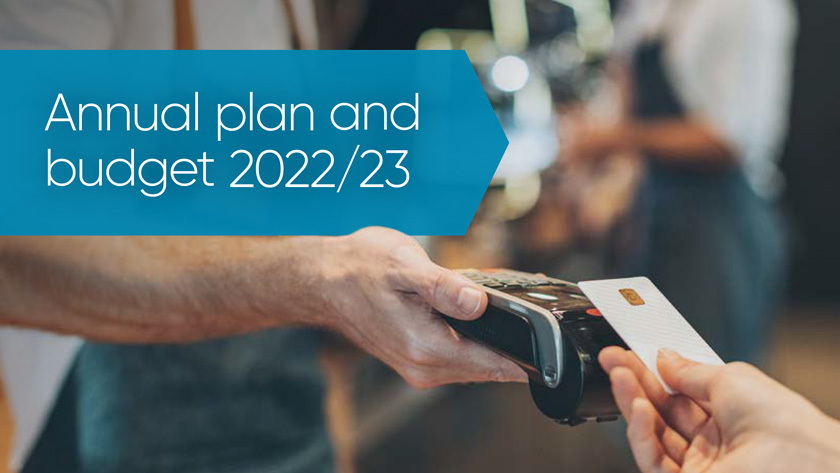 Click on the image to view the online version.
A PDF can be downloaded by clicking the download button

on the toolbar within the online version
Emerging from the COVID-19 pandemic, it's clear how essential to everyday life payment systems are, and that they must be resilient and convenient to allow people to rapidly change how they pay.
On the whole, these systems work well. However, the payments landscape is evolving and with this, there are issues that need to be addressed. These include the prevalence of Authorised Push Payment (APP) fraud, risks to effective competition, and the need to support the payments sector to deliver new and improved services. We can also expect further challenges as global events impact the cost of living, which may affect what people need from payments to support their daily lives.
Our ambitious work programme for 2022/23 focuses on improving outcomes for everyone who uses payment systems so they are fit for the future.
Managing Director, Chris Hemsley and Head of Strategy, Analysis and Monitoring, Natalie Timan introduce our Annual Plan for 2022/23
Aims and activities 2022/23
As the table below sets out, our Annual Plan is guided by the four key priorities established in our Strategy, which launched earlier this year. 
Strategic priority

 

What we'll do in 2022/23

 

1. Access and choice 

The PSR will continue to oversee LINK's work to maintain the UK's free-to-use ATM network, so people can access their cash when they need to. The regulator is also providing expert input on the regulatory framework for potential new payment systems, such as cryptoasset-based options. These new systems have the potential to increase choice and add to competition. 

2. Protection 

For payments to be made safely and with confidence, the PSR is using its powers to ensure that more people and businesses have the added security of the name-checking service Confirmation of Payee (CoP). It is also taking steps now to prepare for proposed legislative changes that should allow the PSR to act against APP fraud. 

3. Competition 

The PSR announced a major piece of work to investigate high card fees and is looking at ways to help merchants get more competitive deals by comparing and switching providers. The regulator is also overseeing Pay.UK's work to deliver the New Payments Architecture (NPA), ensuring it sufficiently allows payment service providers to compete for customers, supporting competition and innovation. 

4. Unlocking account-to-account payments 

A particular focus for the PSR is looking at how account-to-account payments could provide credible alternatives to card payments in retail. 
Our budget
| | | |
| --- | --- | --- |
| Staff costs  | £13,790,756  | 69%  |
| Professional fees  | £2,896,820  | 15%  |
| Accommodation  | £1,344,875  | 7%  |
| Information services  | £642,562  | 3%  |
| FCA Recharges   | £625,964  | 3%  |
| Training, events and recruitment  | £485,500  | 2%  |
| Other (subscriptions, memberships, COVID-19)  | £254,900  | 1%  |
| Total  | £20,041,377  | 100%  |
Find out more and get involved
Along with the full plan, we have created a handy factsheet, which summarises our key projects.
We're planning a hybrid discussion event where we'd love to hear your thoughts on the plan and discuss our projects in more detail. A save the date will be shared with you shortly.  
In the summer, we will publish our annual report summarising how we have performed against our 2021/2022 Annual Plan.