What does Diversity & Inclusion mean to the PSR?
Diversity is a subject which is close to our hearts at the PSR.
As a regulator, one of our key objectives is to work on behalf of everybody who uses payment systems, ensuring that payment systems are operated and developed in a way that considers and promotes the interests of all people and organisations that use them.  
To ensure that we represent the people and organisations that we serve, we are committed to building and sustaining a diverse and inclusive workplace, where our people can bring their whole selves to work. To achieve this goal, we continuously review our people practices, ensuring that decisions are fully inclusive across all protected characteristics, as well as in relation to diversity of experience, working styles and background.  
We encourage our people to raise challenges and to express their opinions so that we can make sound judgements based on diversity of thought and inclusive decision-making.   

The Women in Finance Charter
As part of our commitment to diversity in the workplace, in 2017 we signed the Government's Women in Finance Charter. The Charter is an initiative by HM Treasury that seeks to increase the representation of women in the financial services sector, particularly at senior levels.
The Charter:
Commits to support the progression of women into senior roles in the financial services sector by focusing on the executive pipeline.
Asks each firm to set its own targets and implement the right strategy for their organisation 
Requires signatories to publicly report on progress against those targets, as part of a commitment to transparency and accountability.
As proud signatories of the Women in Finance Charter, the PSR:
Continues to be committed to supporting the progression of women into senior roles and has set targets both for gender and BAME representation
Both our SLT and ELT have their commitment to diversity and inclusion reflected in their performance objectives.
When we signed up to the Charter in 2017 we had 56% female representation across the PSR and 13% of our combined Senior Leadership Team (SLT) and manager population (Extended Leadership Team - ELT) were female. 
As of 31 March 2021:
representation across the PSR is 55% female
Our Senior Leadership Team is 75% female
55% of our managers are female
Our Extended Leadership team (combined SLT and managers) is 70% female
Our female representation on the board is 17%
As a result, whilst we have met our Charter target, our goal is to maintain our focus on gender balance and to continue to develop our talent pipeline through to 2025 and beyond.
Targets
Gender diversity across both our SLT and ELT is already above 50%. As a small organisation, our target is to maintain a balance of 50% women in the leadership team, with a variance factor of plus or minus 10% and to continue to develop a balanced pipeline of talent through to the end of 2025 and beyond.  (This is a broad range as, due to the size of our organisation, just one or two joiners or leavers can have a significant impact on our gender and BAME representation).
We are also committed to achieving at least 8 – 15% BAME representation across our combined SLT/ELT by the end of 2025. 
 
Currently BAME representation across our combined SLT/ELT is at 10%, down from 11% last year, whilst representation across the organisation is up from 19% to 20%.
Social Mobility Pledge
In June 2020, along with the FCA, we signed the Social Mobility Pledge. In doing so, we committed to participating in outreach work, providing structured work experience and apprenticeship opportunities and adopting open recruitment practices to provide a level playing field for those from disadvantaged backgrounds or circumstances.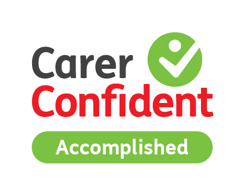 Carer Confident
We are proud to have received the Level 2 Carer Confident accreditation from Carers UK.
Changing demographics and an ageing population means that 3 in 5 people will end up caring for someone at some point in their lives. The number of carers in the UK is set to grow from 6 million to 9 million in the next 30 years.
As an employer, we recognise that juggling paid work and caring can be a challenge.  We are committed to creating a supportive working environment for our people who are balancing their career with carer responsibilities.