What does the IFR mean for people using a card for everyday purchases? 
This page provides information for customers who make everyday card payments. It explains the various fees that are paid by the shops you use, in particular the interchange fee.  
In most cases when you use your card to pay for goods or services in a shop or online, your bank will charge a fee to the merchant's or retailer's bank (except for American Express cards). This is known as the interchange fee. 
The merchant's bank charges the merchant for accepting card payments. This is called the 'merchant service charge' (MSC). The MSC is made up of several components which usually includes the interchange fee. 
Retailers may reflect the MSC in the retail prices charged to all consumers for goods and services. 
Interchange Fees and the Interchange Fee Regulation
The PSR is the lead authority for the monitoring and enforcement of the UK Interchange Fee Regulation (IFR), monitoring compliance with all provisions of the IFR including caps and business rules. 
The IFR mainly imposes requirements on payment card schemes and issuing and acquiring PSPs.  Following EU Withdrawal, the IFR is now retained UK law, which applies in the UK as amended by the Interchange Fee (Amendment) (EU Exit) Regulations 2019. Consumer cross-border card payments between the UK and EU (or any other third country), where either the acquirer or issuer is based outside the UK's jurisdiction, are no longer subject to the interchange fee caps established under either the UK IFR or EU IFR.  
The IFR caps certain interchange fees but does not cap the MSC or set requirements on how merchants should respond to any changes to the charges they face. 
Here is our infographic showing what happens when you make a payment by credit or debit card.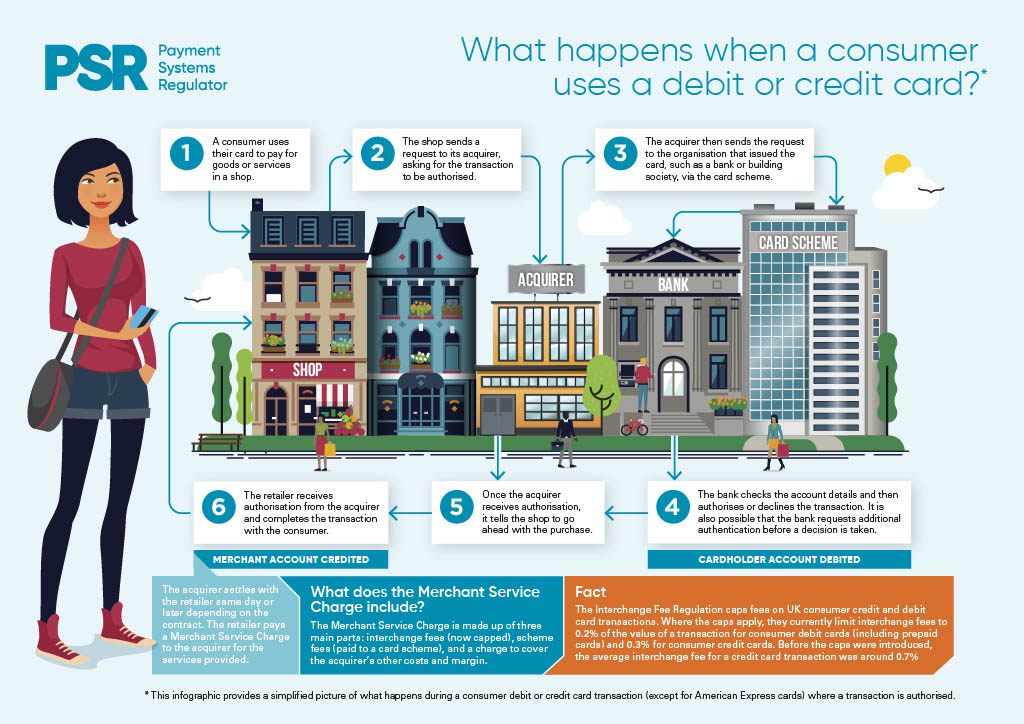 Charges for making card payments
From 13 January 2018 shops are not allowed to charge their customers extra if they pay using certain payment methods, including a card that is capped by the Interchange Fee Regulation. 
The payment methods covered by the ban on surcharging are described in guidance published by the Department for Business, Energy and Industrial Strategy. 
If you think you've been surcharged unlawfully by a merchant for using your card, contact your local trading standards authority or the Department for Enterprise, Trade and Investment in Northern Ireland.
Find out more
Click the links below to learn more about the IFR and how it affects people and businesses.