We have published our final report into the card-acquiring market review. The document sets out our conclusion that the supply of card-acquiring services does not work well for small and medium-sized merchants and large merchants with annual card turnover up to £50 million.
This follows the consultation on the contents of our interim report, last year.
The card-acquiring market review final report
We launched the review because of concerns that card-acquiring services may not offer value for money for merchants. Some of the concerns raised with us included that acquirers might not have passed on savings they made from the interchange fee caps introduced by the Interchange Fee Regulation (IFR). There were also concerns about a lack of transparency around the fees merchants pay to accept card payments and the difficulty merchants have comparing and switching providers.
What the final report identifies
The final report identifies three features that individually and in combination, restrict merchants' willingness and ability to search and switch:
Acquirers and independent sales organisations (ISOs) don't typically publish their prices and their pricing structures and approaches to headline rates vary significantly. This makes it difficult for a merchant to compare prices for ISOs, acquirers and payment facilitators.
The indefinite duration of acquirer and payment facilitator contracts for card-acquiring services do not provide a clear trigger for merchants to think about searching for another provider and switching.
POS terminals and POS terminal contracts can prevent or discourage merchants from searching and switching provider of card-acquiring services. This can occur as a merchant may need a new POS terminal if it switches provider of card-acquiring services but it could incur a significant early termination fee cancelling its existing POS terminal contract.
Remedying these features will improve outcomes for merchants by:
Encouraging them to search and switch, or negotiate a better deal with their existing provider
Reducing the obstacles to getting a better deal
What are card acquiring services and why do they matter?
Card-acquiring services enable merchants – like a newsagent or supermarket – to accept card payments.
While card-acquiring services may not be something many consumers have heard about, the cost that merchants pay to use them will, for example, affect how much people pay for shopping. As more and more of us are using cards to make payments, it is increasingly important that the market is working well for everyone.
Next steps
We will publish a remedies consultation in early 2022. We will seek views and information from stakeholders, with the expectation that the payments industry will play a key role in developing effective and proportionate measures that increase merchant engagement and ultimately improve choice and prices.
Following this, we will publish a provisional decision on remedies (and potentially a draft remedies notice) for consultation later that year.
This document should be read alongside the annexes, glossary, stakeholder responses and IFF merchant survey results shown below.
You can view our infographic on what happens when a consumer uses a debit or credit card: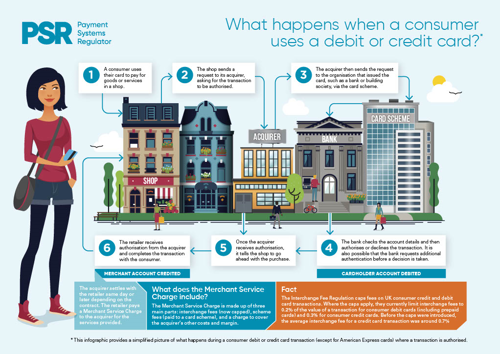 PSR Card Acquiring Market Review Final Report Annex 1 (Nov 2021)

pdf | 939 KB

PSR Card Acquiring Market Review Final Report Annex 2 (Nov 2021)

pdf | 1.1 MB

PSR Card Acquiring Market Review Final Report Annex 3 (Nov 2021)

pdf | 310.5 KB

PSR Card Acquiring Market Review Final Report Annex 4 (Nov 2021)

pdf | 521.9 KB

PSR Card Acquiring Market Review Final Report Annex 5 (Nov 2021)

pdf | 264.6 KB

PSR Card Acquiring Market Review Final Report Glossary (Nov 2021)

pdf | 115.9 KB

PSR Card Acquiring Market Review Interim Report Consultation Responses Non Confidential (Nov 2021)

pdf | 30.1 MB

PSR Card-Acquiring Market Review Merchant survey results IFF.pdf

pdf | 4.5 MB

PSR Card-acquiring_services_market_review_IFF_ technical_report_.pdf

pdf | 663.4 KB
MR18/1.7 - Market review into the supply of card-acquiring services: Interim report

We have published our interim report on the supply of card acquiring services which shows that merch…

15/09/2020